265 PAGES OF HIGHLY VALUABLE INFORMATION AND PRACTICAL NUTRITION TIPS BASED ON THE LATEST SCIENTIFIC RESEARCH AND AN IN-DEPTH UNDERSTANDING OF VARIOUS NUTRIENTS, DIETARY SUPPLEMENTATION, AND ASSESSMENT METHODS.
Biohacker's Nutrition Guide (e-book) is one of the most comprehensive and holistic handbooks on various nutrients and the optimization of their intake. It offers comprehensive information on different foods and dietary supplements. This guide contains all the data you need to balance your nutritional status and optimize the intake of various nutrients.


A lot has been written about nutrition and different diets. People tend to take various supplements based on the knowledge they get from advertisements or rely on official recommendations. Also, there are many information sources available on different diets. However, there is very little systematic and concise data on how to perfectly optimize the intake of different nutrients of a single individual.




We are at least somewhat familiar with official nutritional recommendations and general recommended dietary allowances (RDAs). The advantages and drawbacks of the recommendations addressed to the public lie in their simplicity and globality. General recommendations concerning recommended nutrient intake often reflect the threshold levels that reduce the risk of exposure to certain known diseases. However, the population-weighted average requirements may not be relevant when optimizing individual nutrition intake.




No matter your most important goal or starting point, this book will guide you in balancing your nutritional intake.




Biohacker's Nutrition Guide is written by a successful health author, biohacker, and Medical Doctor, Olli Sovijärvi.

The most common and well-known symptom of iron deficiency is general fatigue. Globally, 30% of the population have had an iron deficiency at some point in their lives—the need for iron increases, especially during pregnancy, breastfeeding, and growing children. Vegetarians and vegans have an increased risk of developing iron deficiency.
Human iodine levels have decreased by as much as 50% in the last 30 years. Iodine deficiency can cause hypothyroidism and goiter. Globally, it is estimated that up to 30% of the world's population suffers from iodine deficiency.


Vitamin B12 deficiency can expose, e.g., to neurological disorders. A study conducted at the University of Turku found that up to 32% of Finns over the age of 65 exceed the threshold values for vitamin B12 deficiency. Vitamin B12 deficiency is relatively common in vegans and especially in the elderly.

TOP RATED BY OUR CUSTOMERS

This book is based on an online course, that more than 6,000 satisfied customers have completed. I've been running an online system to achieve an optimal nutritional state for over six years. The course material has received so much praise that I decided to turn it into an e-book. Now for the first time in the world, the Biohacker's Nutrition Guide is a systematic opus for optimizing different nutritional factors.
– Dr. Olli Sovijärvi, M.D.
BIOHACKER'S NUTRITION GUIDE (E-BOOK)
Biohacker's Nutrition Guide is based on almost 900 research sources and articles – mostly peer-review high-impact articles, reviews, and meta-analyses published over the past few years. This comprehensive e-book gives you concrete lists, tips, and action plans on optimizing every micronutrient intake from the diet and supplementation. It also covers the best lab tests on each of the micronutrients and possible optimal ranges for them.
This over 260-page guide covers all of the following:
CHAPTER 1: FAT-SOLUBLE VITAMINS
VITAMIN D OR CHOLECALCIFEROL (VITAMIN D3)

VITAMIN A OR RETINOL

VITAMIN K (VITAMINS K1 AND K2)

VITAMIN E
CHAPTER 2: WATER-SOLUBLE VITAMINS
VITAMIN C (ASCORBIC ACID)

VITAMIN B1

VITAMIN B2

VITAMIN B3

VITAMIN B5

VITAMIN B6

VITAMIN B7

VITAMIN B9 (FOLATE)

VITAMIN B12 (COBALAMIN)
CHAPTER 3: MINERALS AND MICROELEMENTS
CALCIUM

PHOSPHORUS

MAGNESIUM

POTASSIUM

SODIUM CHLORIDE (SALT)

IRON

ZINC

MANGANESE

MOLYBDENUM

SELENIUM

IODINE

CHROMIUM

COPPER

SILICON

BORON
CHAPTER 4: FATTY ACIDS
SATURATED FATTY ACI

DS

MONOUNSATURATED FATTY ACIDS

POLYUNSATURATED FATTY ACIDS

MEDIUM-CHAIN TRIGLYCERIDES

SHORT-CHAIN FATTY ACIDS
CHAPTER 5: ANTIOXIDANTS
CAROTENOIDS

UBIQUINONE (COENZYME-Q10)

PHOSPHOLIPIDS

CHOLINE

INOSITOL

BETAINE

N-ACETYLCYSTEINE (NAC)

ALPHA-LIPOIC ACID

GLUTATHIONE

TAURINE

CURCUMIN

GREEN TEA

RESVERATROL

FLAVONOIDS AND OTHER POLYPHENOLS

MILK THISTLE

T

HE ASSESSMENT OF OXIDATIVE STRESS
CHAPTER 6: AMINO ACIDS AND CARBOHYDRATES
ESSENTIAL AMINO ACIDS

NON-ESSENTIAL AMINO ACIDS

CARBOHYDRATES

SUGARS

MONOSACCHARIDES

DISACCHARIDES

SUGAR ALCOHOLS

OLIGOSACCHARIDES

POLYSACCHARIDES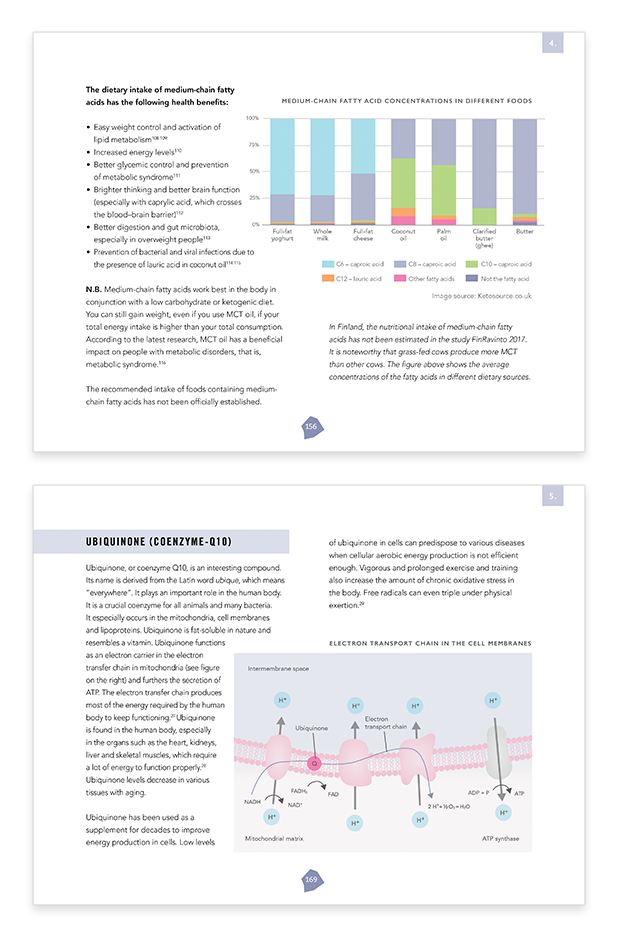 "Holy cow. The biohacking wizards from Finland have done it again. This thing is the ultimate handbook to everything you'd ever want to know about anything you may ever eat in your life."
– Ben Greenfield, author, coach, speaker: BenGreenfieldLife.com

"Optimal nutrition dissected! Olli is a biohacking alchemist when it comes to supplements, food and meal timing. Highly recommended read."
– Siim Land, author, speaker, high performance coach; Siimland.com

"Biohacker's Nutrition Guide is the perfect resource for anyone looking to improve their diet and nutrition. This guide provides simple, actionable advice on optimizing your nutrition based on your specific goals and needs. I'm grateful to my colleague and trusted author for putting this awesome encyclopedia on micronutrients together."
– Teemu Arina, futurist, co-author of the Biohacker's Handbook



Save on food and supplement costs by avoiding low-quality and nutrient-poor products.
With the help of the book, you will learn how nutrient deficiencies that cause and maintain diseases can be corrected.
The entire content of the book is based on research and contains appropriate references.
DR. OLLI SOVIJÄRVI (M.D.)
Dr. Olli Sovijärvi is one of the pioneers of holistic medicine in Finland. He has worked at nearly 50 different clinics and ERs around Finland. Dr. Sovijärvi has also acted as a consultant to various companies and service providers in wellness and health technology. In 2010–2011, Dr. Sovijärvi obtained an Integral Theory degree at John F. Kennedy University, focusing on psychology and philosophy. Between 2013–18, Dr. Sovijärvi practiced medicine at a private clinic specializing in nutrition and holistic health care. Currently, Sovijärvi focuses primarily on producing scientific content for preventive health care and well-being. He is the head author of the Biohacker's handbook and co-founder of the Biohacker Center. He also runs training sessions and presentations on biohacking, performance optimization, nutritional issues, and maintaining intestinal balance.
GET BIOHACKER'SNUTRITION GUIDE
• 265 pages

• 883 scientific references
• 35 high-quality pictures & tables
• 50 lists of best foods for each micronutrient
• Laboratory markers for each micronutrient & optimal ranges whenever applicable
The Biohacker's Nutrition Guide e-book combines scientific knowledge, cutting-edge food data, ancestral wisdom, and advanced biochemical research into a well-written and complete guide to optimizing your body's nutrition status with whole foods, supplementation and biomarker quantification.
File format: PDF / E-book
ISBN: 978-952-7241-64-6
GET OPTIMIZE YOUR NUTRITION COURSE
Get 10% off both the Biohacker's Nutrition Guide and the Optimize Your Nutrition Online Course when bought together. Add both to the cart and your discount is applied at checkout.
The most comprehensive online course on building a nutrient-optimized diet:
Learn about nutritional factors, their effects on the body's well-being, and the best food sources.

Understand how various nutritional factors can and should be measured in the body.

Get supplement recommendations for when a versatile diet is insufficient to secure intake.

6 weeks' worth of videos, extensive text material, and plenty of additional references in an easy-to-understand form.

Dr. Olli Sovijärvi himself on the online platform answering attendee questions on nutrition.
Suitable for all diets from mixed, vegan, keto, and carnivore.
TAX & PAYMENT DETAILS
Value-added Tax (VAT) is added to prices for purchases in the EU depending on your location. If you have a VAT ID, you can enter that during checkout to deduct the VAT. No VAT added if you reside outside of EU.
We accept most credit cards and Paypal.
FREQUENTLY ASKED QUESTIONS
Biohacker's Nutrition Guide FAQ
I have read every diet book out there. How is this any different?
This book is not about any particular diet. It is all about managing an optimal micronutrient intake for your personal needs. Use this book to add the foods you need for your diet with the help of measuring nutrient levels in the blood.
Will I get specific supplement and brand recommendations with this book?
No. But this book will give you a clear idea of whether you need to supplement on different micronutrients or not.
I am a vegan. Can I still buy this book?
Yes, most definitely you can! This book is not about any diet but instead about improving your diet with specific nutrient-dense foods that fit YOUR diet.
I am generally very healthy and do not have any medications. Do I still benefit from this book?
Biohacker's Nutrition Guide is not about treating any disease, but improving one's nutritional status will most often help with the healing process. That being said, one of the theses of this book is to help improve their health and make them "harder to kill."
Do you want to see the summary?
Download the free 42-page PDF summary of nutritional factors below to get started on your own:
DISCLAIMER
This guide presents the author's personal experiences and recommendations based on them, combined with the information researched. However, this book and its experiences and research reviews should not be considered treatment recommendations. Do not order or use any of the herbs or supplements mentioned in this book without first talking to your doctor. The content of the guide is intended as self-study material.